Here's a gift for you – free access to my invite-only email community:
Performance Marketing – Weekly How-tos delivered to your inbox
My client came to we with a problem. He needed to segment his email list so that his subscribers on different stages and with different interests would get different letters.
Just for this purpose Mailchimp (an email marketing tool that my client is using) can store fields with information about each subscriber:

When you're sending a campaign, you can check an option to send it only to those subscribers with a specific value of a certain field. An example of such field is the industry the subscriber is in. Depending on the industry, the subscriber may be interested in different information and different services.
If you have this information, you can create segments of customers and send them information they're interested in and that may potentially influence them to make a purchase: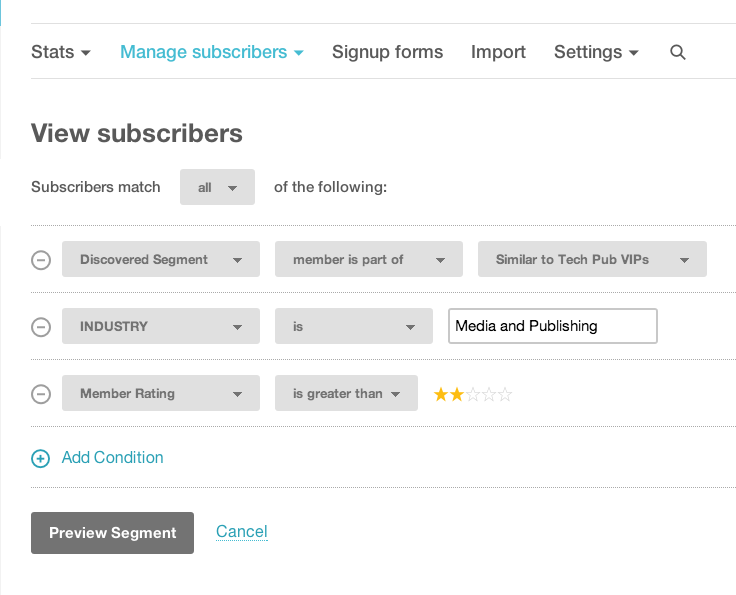 But how do we make it so that Mailchimp database contains all the information based on which we can segment our lists? One way is to enter this information manually, but it takes too much work. Plus, this way there is always a chance that something is entered incorrectly.
The best solution is to syncronize client's CRM system with Mailchimp. Each time someone adds or changes a new lead into the CRM, this information simultaneously appears in Mailchimp. For many CRM system there is already a plugin for this purpose, but for Bitrix24 (which my client used) there wasn't such.
Using this synchronization tool my client was able to segment his email list effortlessly and send emails that appealed to each segment of his customer base.
Here's a gift for you – free access to my invite-only email community:
Performance Marketing – Weekly How-tos delivered to your inbox