Here's a gift for you – free access to my invite-only email community:
Performance Marketing – Weekly How-tos delivered to your inbox
Most of the apps we use daily shine with their simplicity. Google is just an input field with two buttons. Uber is just a few screens. iPhone has just a few buttons. And we all love it.
But don't be mislead by a simple interface. The power of these products lies in the complexity unavailable to a naked eye. Take a look at this illustration: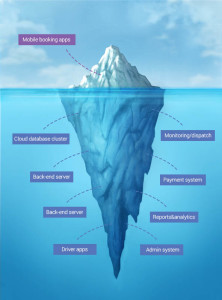 What you use is just a front-end interface (which, by the way, is not that cheap to make). It really is just a tip of the iceberg.
Here's a gift for you – free access to my invite-only email community:
Performance Marketing – Weekly How-tos delivered to your inbox